Trying to eat more veggies can be difficult for those of us who are picky eaters and I am the world's fussiest eater.  Although I do eat a lot of good foods, I don't tend to venture out of my comfort zone.  I only seem to try new things if they look like fun or if they smell REALLY GOOD. This happened recently when my family started making Italian Style Zucchini Noodles with Cheese.
This post may contain affiliate links. Although we may make a small commission it is at no cost to you. See "Disclosure and Legal Things" section for complete details.
Recently, my mom bought a Zucchini Noodle (Zoodle) Maker.. It's called The Paderno World Cuisine Spiralizer.  She began making some very pretty and fairly simple dishes.  It only takes a few minutes to make a zucchini look like a gourmet meal! My mom and my daughters have become obsessed with Zucchini noodles.  They are putting them in everything.  I would not have considered eating a zucchini until I saw this!
I am really into healthy meals that look like a treat.  Cooking for hours has never been something I have enjoyed, so something fast and easy works best for me.  These zoodles, along with a jar of Classico Tomato Basil Pasta Sauce and some shredded cheese makes a tasty meal in less than 20 minutes.
The 3 ingredients we use:
Shredded Cheese (I prefer Light Mozzarella, but you can use whatever your preference is)
Zucchini (As many as you would like. We like to make extra and keep it in the fridge for future use.)
Classico Tomato Basil Pasta Sauce (You can pick your favorite flavor.)
Putting it Together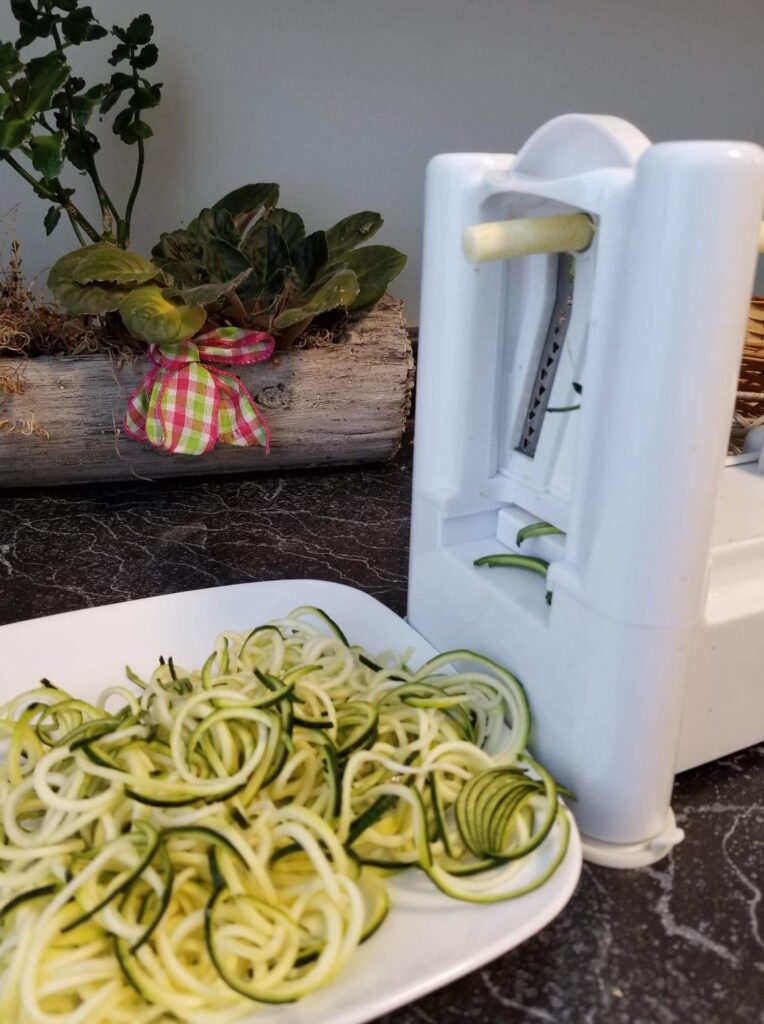 Simply place your zucchini on the Spiralizer and turn the handle until you have a nice pile of zoodles (you can select the style of zoodles you would like). Throw the zoodles in a small pan with a teaspoon of Olive oil (or spray it with Pam Olive Oil Spray) until it is heated. It only takes a few minutes. I prefer to add some garlic powder and Italian seasoning, but you can add whatever spices you enjoy. While you are preparing the zoodles you can have the Classico Sauce heating up – stove-top or microwave – it's totally up to you! Once it is hot, just added the sauce and top it with the shredded cheese. 
This can be served as the entree or used as a side dish.
NOTE:
You can add your favorite homemade sauce to these zoodles as well. I am always cooking on the go, so something fast and easy is always my go-to. If you have a tasty tomato sauce recipe that you would like to share, feel free to leave it in the comments section for others to try.